Call For PricingKishawn Kole-James, DDS
Orthodontist in Harper Woods, MI and West Bloomfield, MI
In 1999, Dr. Kole-James received his BS Degree from the University of Michigan , pursued postgraduate studies from 1999 until 2002 at Wayne State University and received his Doctor of Dental Surgery from the University of Detroit Mercy School of Dentistry . He continued his academic pursuits as a African American dental resident at the Veterans Affairs Medical Center in 2006.
Seeing the need to provide quality dental care in his hometown of Detroit, Dr. Kole-James opened a private practice in Detroit from 2006-2007. After a fire destroyed the office, his determination to provide excellent dental care, intensified. He used it as a learning foundation and went to work in public health in the city of Detroit. His dedication and commitment to the African American community allowed him to become the Dental Director for three clinics at Detroit Community Health Connection. Execution of aspects of Dental Operations included monitoring dental clinics to ensure activities remained in accordance with accepted national standards and administrative policies while actively participating in the Quality Improvement Program.
Knowing that teaching a subject is the best way to reinforce information, Dr. Kole-James served as an Adjunct Instructor at the University of Detroit Mercy School of Dentistry during the Academic Year of 2011-2013.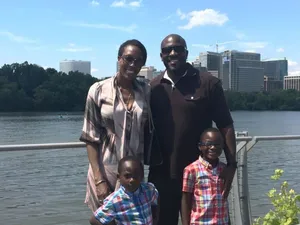 Seeing the underserved area of Orthodontics in the Detroit Metropolitan Area Dr. Kole-James renewed his commitment to exceptional patient care in private practice. Even before obtaining his degree in orthodontics, Dr. Kole-James shadowed the best orthodontists in the Metropolitan Detroit area for months at a time. He then maximized his commitment to dental practice by moving his family to Washington DC for two years, to attend and receive his Orthodontics Degree from Howard University in 2016.
He has been happily married to his best friend, Uchenna for 10 years. They have two wonderful children, Samuel and Emmanuel who keep them extremely busy. In his spare time, he loves hanging out with his family and playing or watching sports.
We also have West Bloomfield Township, MI and Detroit, MI locations
To prepare for providing superior patient care, Dr. Kole-James completed additional courses and certifications from 2014 – 2016:
Moyers Symposium – March, 2014
GORP, 2014
INVISALIGN Certification – November, 2014
MSSO – 2014, 2015
Charles H. Tweed Course – April, 2015
Elite Orthodontics Hands On – TAD Course – May, 2015
MASO – October, 2015
Passive Self-Ligation – October, 2015
Academy of Laser Dentistry Member - October,2015
American Dental Association – November, 2015
Gain Periodontal/Restorative Access: Flaps and Lasers – November, 2015
Pre-Orthodontic Orthognathic Surgery – A New Paradigm? – December, 2015
Orthodontic World Congress Dentsply GAC – January, 2016
Roncone/Forestadent USA JSOP Graduate Edition – February, 2016
3M Resident Summit – April, 2016
An Advanced and Comprehensive Program on Temporomandibular Disorders and Orofacial Pain-June 2016